Hello and welcome to this very special post where I summarise this soupy, soupy year with a rip-roaring ride through this very blog and the most popular entries since its conception in March!
An interview with Sophia Danielsson-Waters: Around the world in not-80 days
Let us start with my interview with my friend Sia about her gap year round-the-world trip. This was the first of my mini-interviews designed to give me some interviewing practise, and it got a lot of hits on its first day, thanks in part to Sia sharing it with her friends on her Facebook and Twitter. This is why it's good to write about people you know: you can watch them share it and see what people think very very easily!
The British National Party: Who are you?
Next up, the post that gave me my most hits in one day to date: my interview with young BNP supporter Jacque. Obviously this stirred up a lot of controversy when it was posted on Facebook and Twitter, but it was one of my favourite pieces to write, and it got people talking, which was exactly the right sort of response for this sort of piece.
How to learn shorthand in six weeks
A piece that still pulls in hits seven months down the line is this piece about learning shorthand in six weeks. In my intensive 14 week NCTJ course, the theory was genuinely finished by the six week mark, with the exams just four weeks later, when I passed my 100wpm. That was a very exciting moment for me, and I get lots of people finding this post by Googling '___ in Teeline', so clearly there are people interested in this most curious of arts. Likewise, this post about writing shorthand lefthanded has been pretty popular, because it's a bit of a niche topic, and there's really not a lot of information or advice out there for lefties wanting to learn shorthand.
I wrote this piece about the part of London I have lived in for uni the past two years, Wood Green. It certainly has its problems, so I thought I'd write about why I thought that could be. I particularly like the addition of the map at the top of this piece. Anything that helps the reader is something I want to include in my posts.
A way with words: What is Linguistics?
"How many languages do you speak?" The answer is English, and barely that, and GCSE-level French. Linguistics is not, as many people think, where you learn multiple languages. It's about grammar and sound and meaning and how we learn to speak, and I thought I'd try to set the record straight with this post. The video of the vocal cords is grim.
A reflection: The end of an NCTJ era
I wrote a post summarising the end of my wonderful, wonderful NCTJ course. It makes me too sad to read it now as I miss it too much, but I like to know that it's there, ready for me to read when I feel less depressed about having completed the best part of my education in such a short space of time.
I like Scandinavia. Everyone knows this. I went to Oslo and I wrote about it. I have also written about my trips to Reykjavik, Copenhagen and Sandefjord, all of which can be found either in this blog or on my portfolio page.
Celebrate by Pippa Middleton: A book review
Along similar lines, I like recipe books. Pippa Middleton's received a lot of attention, and a big part of blogging is to do with latching onto what people are searching for. This gets quite a lot of views at the moment, because it's still quite a current book, and lots of people were probably looking at reviews if they were considering buying it as a Christmas present. Reviews are hands down my favourite thing to write.
Statistics Anonymous: Why are stats so useful for bloggers?
My post about statistics for bloggers was surprisingly popular. I didn't realise so many people would be interested; it was more of a post for enjoyment than expected popularity. I'm pleased so many people were curious though, as I put quite a lot of effort into it.
Beautiful enough for BeautifulPeople.com?
Last, but the absolute opposite of least, is my blog's biggest success: the BeautifulPeople post. I knew that this would be popular, because so many people are fascinated with the weird world that is BeautifulPeople, but I never thought it would still be pulling in as many views as it does. It's still often the most viewed post of the day even now, months and months after I wrote it. Most of the hits I get for it are along the lines of 'why haven't I been accepted on beautifulpeople' or 'what does absolutely not mean on beautifulpeople', so clearly people are very keen to find out more about it. In fact…: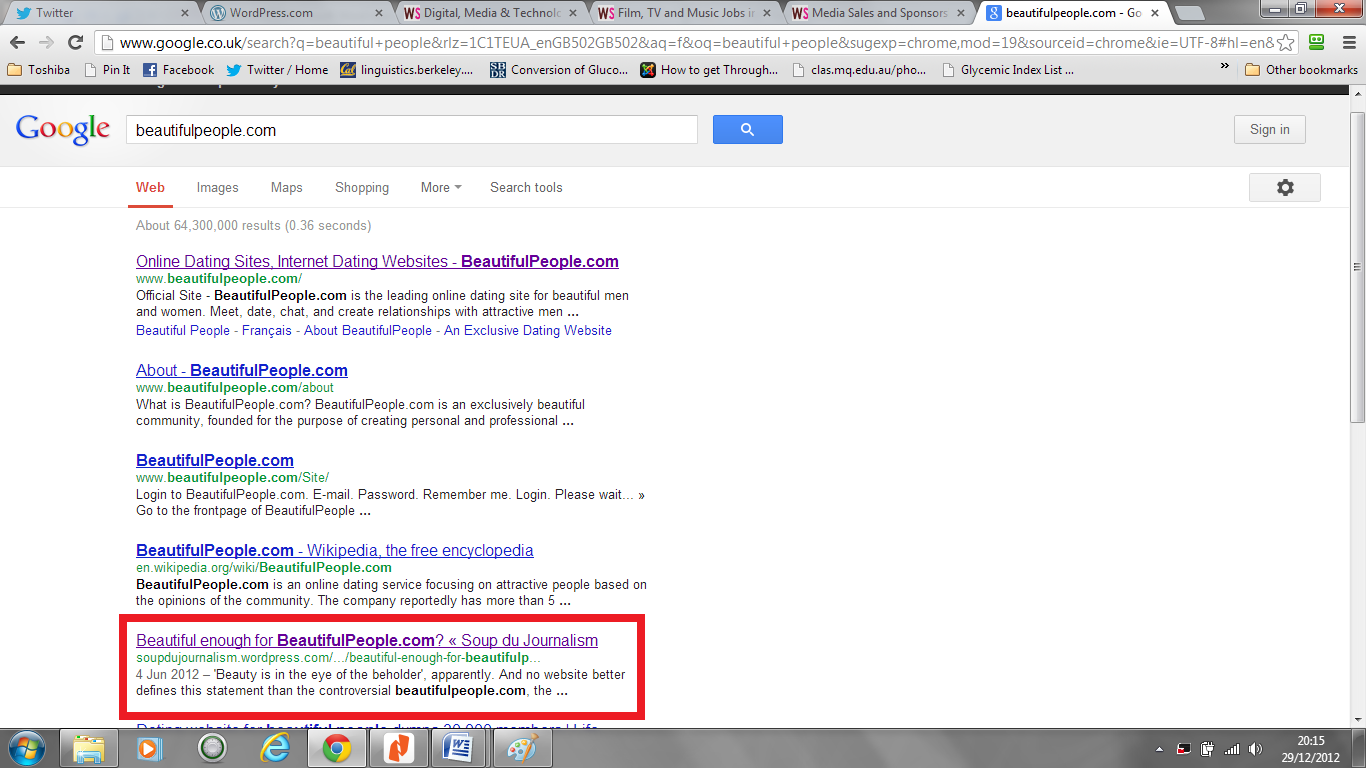 So, there we have it! In around nine months I've had great fun writing this blog, reading your comments and obsessively refreshing the stats page after a new post! May it continue into 2013 and beyond!
Kayleigh